Field hockey keeps growing in popularity. In an attempt to become better, more and more newbies invest in accessories and equipment to make their experience more exciting. But then, do you know why you need one thing or another?
Do you really need it or is it just a show-off? We've reviewed the top Best Field Hockey Equipment List so you don't have to. We talk about the pros, the cons, and all the extra features.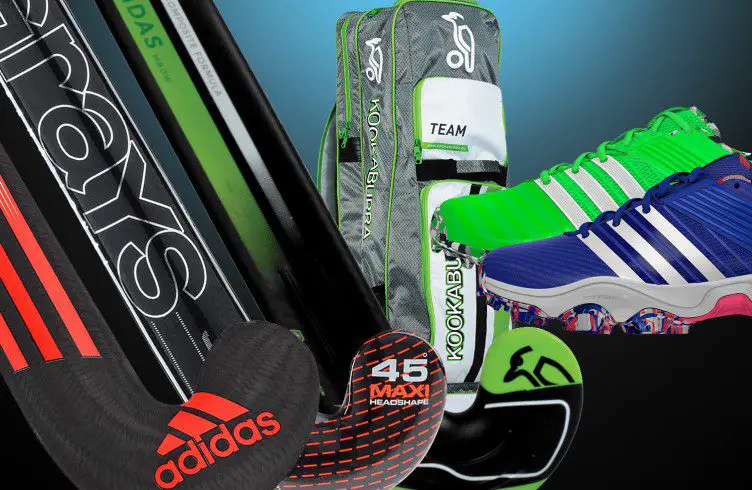 Best Field Hockey Equipment List For Beginners
This article will introduce you to everything you need to know about field hockey equipment.
Sticks are probably the most important things you need in field hockey. You can play the sport without other pieces of equipment (especially protective equipment), but according to the rules, you cannot handle the ball with any part of your body. In other words, the stick is a must.
Sticks are extremely diversified and can be classified by multiple criteria. You need to choose the right one according to your skill level, as well as your position – goalie, defender, midfielder or attacker. The playing surface is just as important, not to mention other things in terms of construction, design and size.
When it comes to sizing, you can choose the right stick by making sure it reaches the top part of the hipbone when standing perfectly straight. This is the most common way to decide on the size – you might as well measure yourself before ordering over the Internet. It can be a bit lower or higher though.
As for your skill level, it is worth noting that although professional sticks will not always work wonders on newbies. If you are new to this game, you might want to start with something suitable, such as the Dragonfly Gecko Field Hockey Stick or the STX Field Hockey Stallion 50 Field Hockey Stick.
Selecting a good stick that matches your style has never been easier with our best field hockey sticks guide. Compare prices, features, brands and the pros and cons of each stick.
Generally speaking, you do not need any special socks to play field hockey. You might as well wear some regular socks – every day or workwear, it makes no difference. As long as they fit and they are comfortable, you can grab your stick, balls and friends and reach the nearest playing surface for a game.
Why would anyone invest in field hockey socks then? There is a catch. Some field hockey equipment cannot really be comfortably worn without having some additions to in. For instance, if you wear shin guards, they come in more materials, but some of them are quite rough and may scratch your legs.
This is when field hockey socks like the STX Field Hockey Shin Guard Sock kick in. There are two different ways to wear field hockey socks. Some people wear them under their shin guards in case they have supportive straps. This way, shin guards feel more comfortable and will not scratch their legs.
On the other hand, if your shin guards do not have any straps to keep them in place, they will slide away and feel uncomfortable. You will also have to focus on them, rather than the game. Products like TCK Prosport Performance Tube Socks (Multiple Colors) can be worn on the outside to help keep them fit.
Along with the sticks, balls are the only requirements you need for field hockey. Even if you have a stick, how do you plan to play field hockey without an actual ball? Exactly! Just like any other piece of equipment, field hockey balls come in all kinds of shapes, sizes, designs, styles and compositions.
Again, it depends on what you need them for. For instance, Champion Sports Field Hockey Practice Balls – 12 Pack in Multiple Colors come in the official colour and size – white. They are designed just like the ones used in official competitions, so you will get a more authentic feel of the sport.
If you are not playing in official competitions, Harrow Blister Pack Smooth Field Hockey Ball (2-Piece), White/Multi-Color might be just as good. You have two balls – a white one and a multicolour model that may not be official, but it will be more visible under certain circumstances when you play with friends.
Balls may seem basic, but they can be quite confusing. Some of them are created for training purposes. The core is hollow, so they are much lighter than official balls. On the other hand, official balls tend to have a cork core, so they have a more balanced profile. You can also find dimpled balls in commerce.
Shin guards have a self-explanatory name and the exact same purpose in pretty much any sport. Whether it comes to football or field hockey, their main role is to protect the lower part of your legs. Imagine a field hockey ball hitting you at 50MPH in the shin. Would you be able to cope with the pain?
Shin guards are quite diversified in terms of quality and design. They are made from multiple materials, but if you truly want protection, you will find solid plastic ones. They are lightweight, so you will get used to them in no time. Some of them provide a higher level of protection – the ball of your foot, for example.
STX Hinder Field Hockey Shin Guards, for example, come with an aerated design to let the sweat out. You must consider the fitting mechanism too. This model does not feature any straps. Therefore, you will need to wear the right socks on top of them to keep them in place or they become useless.
The same goes for the Harrow Probot Shin Guard, which has a similar design, as well as a removable liner. The liner can be easily washed, while the thick plastic shell can go under running water. Make sure you get the right size or they will feel uncomfortable or fail to provide the right level of protection.
Not sure which size to pick? No worries, we wrote a full guide on how the select the best field hockey shin guard.
Can you play field hockey without stick bags? Absolutely. Are they mandatory? No. Do you need them? Yes. Simple as that. While a stick bag is not a must-have piece of equipment, more and more players invest in such products for a series of different reasons. They are not expensive, but they can make your life easier.
Stick bags like the STX Field Hockey Prime Stick Bag are excellent for transportation. You do not necessarily have to travel by plane to play a game. Even if the pitch is just a few miles away, you still want to keep your stuff together, rather than just throw everything in the boot of your car.
The best part about field hockey stick bags is the fact that you can store more than just sticks. Most of them have enough room for a bottle of water, a ball or two or even your special shoes. In other words, they are more diversified than you think and they can keep everything organized for your next game.
Field hockey stick bags come in more designs – a matter of personal preferences. For instance, the Mazon Z-Force Combo Field Hockey Stick Bag is available in a series of designs. Apart from transportation, they are great for storing everything in one place too.
Field hockey helmets are a bit sketchy because of their uses. You might find some newbies also wear them for protection on the field. But generally speaking, they are designed for one position only – the goalkeeper. They are not recommended only, but quite mandatory – even in games against friends.
The Bauer IMS 5.0 Helmet Combo comes with pretty much everything you might need. As a goalie, you want protection for the top of your head and face. Most helmets come with a face mask that allows seeing through and breathing, but it does not let the balls go through.
If you play in more competitive games, you might want something more protective, such as the Schutt 2966 Air Maxx Catch Helmet (EA). It comes with a similar design, only it offers a little more protection around the throat too.
Helmets should be adjustable because they do not come in many sizes. Plus, make sure your helmet can fit perfectly and it has good cushioning. The cushioning should be comfortable or this experience might become painful after a few games.
Goalie protection gear
The goalie is one of the most exposed players on the field. You will not run too much, so you do not need a good physical condition. Instead, you require good reflexes, an athletic build and lots of protection. Why? Imagine lots of balls coming towards you at 50MPH. What happens if they hit you directly? Exactly!
There is plenty of goalie protection gear you can invest in, from cleats and gloves to thicker shin guards and padding. You can never really go wrong with padding. The more areas of your body are covered, the better you will feel. You will also be exposed to less potential injuries.
From another point of view, make sure you do not exaggerate. Using way too much padding can restrict your movements. Besides, it might get heavy, so it could also affect your reflexes. Instead, try to come up with a middle solution, like Rollerfly Goalie Slide Plates for Inline Or Ball Hockey (Red) – great ratio for weight and protection.
The Franklin Sports NHL SX Pro GC 1300 Goalie Catch Glove is also a good example of what a goalie will need. Unless field players, you can use any part of your body to block a ball – including your hands. However, you would not stop a ball travelling at 50MPH with your bare hands, hence the necessity of protection.
Field hockey is not the box. If you play against friends and family, the sport is less likely to get too aggressive. But then, the lift can be raised in the air at times. If you are a goalkeeper, you are even more exposed. Plus, some helmets only cover the top of the head and not always the mouth.
When it comes to field players, a harsh challenge can get a stick up in the air and lead to injuries. For any of these reasons, field hockey mouth guards represent a top necessity. They are not expensive, but they will provide lots of protection against potential injuries, so they have great value for money.
The Shock Doctor Mouthguard is recommended for every sport that can cause an injury and field hockey makes no exception either. Just like most other mouth guards, you can get it in more sizes. You can opt for more colours as well, not to mention the taste – would you like a particular flavour?
On another hand, SISU Mouth Guards Aero 1.6mm Custom Fit Sports Mouthguard for Youth/Adults has a slightly different design, but the role is the same. All in all, wearing a mouth guard will feel a little unusual and uncomfortable at first, but given the speed and harshness of the ball, it becomes a top necessity, regardless of your position.
From many points of view, backpacks are similar to stick bags. They are meant to help you carry everything you need in one place, organize gear more efficiently and even store all your items together when not in use. A regular backpack might do, but a field hockey backpack is even better in terms of features.
The Athletico Youth Lacrosse Bag, for instance, is fully featured and perfectly designed with multiple compartments for everything. Most of these backpacks even come with special compartments for your shoes. They also feature hooks and holders for things that can be hanged, such as your helmet.
Regular and field hockey backpacks look similar, but there is one major feature that makes the difference. A field hockey backpack will come with a few stick holders too. They are usually on the sides. Sticks are outside the unit but well fit on the sides. They provide good balance and will not interfere with your moves.
The backpack does not always have to be specialized though. For example, the Athletico Lacrosse Bag is designed for lacrosse, but it is just as handy for any other sport that involves using sticks – it has the holders and all those little compartments for other gear.
Grips
The grip is often overlooked in field hockey sticks. This is because most sticks come with quality grips that do not slip, break or tear too easily. After a while, normal wear and tear will become obvious though. At some point, the grip will require replacement. You can do it yourself, but you have to buy some grip first.
Applying grip for the first time can be a bit tricky and may not be a perfect experience. However, by the second or third time, you will be an expert. What do you need to look for? Most people look for durability and a nonslip surface. They want the grip to be stable for a more authentic experience on the field.
There are other things to take into consideration too. For example, the Mazon Cushion Plus Field Hockey Grip has a nonslip surface, but also a soft feel. When you hold the stick, it will feel cushioned. Vibrations are also reduced, so you will show off your skills in a more efficient manner.
Think about the colour as well. The GRAYS Traction Plus Grip comes in a few different colours to match whatever colour combo your stick has. Think about the design too. This model, in particular, has a dimpled design, which adds to your experience even more due to the extra stickiness. Your hands will literally stick to it for extra stability.
Shoes
For a newbie, field hockey shoes do not represent such an important consideration. After all, when you play with friends and family, you might as well do it in your work shoes. But then, such small things will affect skill development, restrict your movements and capabilities on the field – not such a good idea.
Field hockey shoes might look like running shoes at first glance. But if you try running shoes on the field, they will quit on your within a few games only. They lack resistance and durability, as they are designed for a less aggressive type of sport. Your fingers will be out through one of the sides in no time.
Field hockey shoes are designed to last. They do have a few things in common with running shoes though. The Nike Women's Zoom Hyperace 2 Volleyball Shoe is designed for more sports, including field hockey. It looks like a running shoe, but it is also extremely lightweight, so the game will feel like a breeze.
Durability is not the only thing field hockey shoes can provide. You also gain more agility and ability as you run or turn. You do not have to restrict your moves or feel limited, but do your best to win a game knowing that these shoes are designed to support you. To make it even better, some of them are good as everyday casual shoes too – look at the ASICS Women's Gel-Rocket 8 Volleyball Shoe, it seems so casual. It is one of the best hockey shoes for women. For cleats, we reviewed the best cleats for men.
Gloves
At first glance, you probably imagine gloves are for goalies only – terrible misconception. You could be out there on the field and get hit by a speedy heavy ball over your knuckles. Not only it is one of the most painful experiences in field hockey, but it may also cause a severe injury. In other words, field hockey gloves are a must for all players!
Gloves come in a plethora of different styles. Some of them are thumbless – Harrow Field Hockey Glove, yet they still protect the knuckle. Some others offer protection for the entire palm – Harrow Double Down Gloves. They protect the outside of your hands, as well as the fingers and knuckles.
While this is the ideal case, you will find more simplified models that will only cover the essentials, All in all, the more padding you have, the better. Besides, you should ensure gloves do not affect your ability to hold the stick, as you might drop it accidentally. Luckily, top products come with a good nonslip grip.
Pay special attention to the amount of padding, the holding mechanism (you usually get straps and Velcro) and the levels of adjustability. Sizing is just as important, as it will affect your skills. Ideally, you should also have some materials the provide breathability or your hands will sweat within minutes only.
Cleats
At some level, cleats can be attached to shoes – obviously, they must be compatible. At a beginner and generally professional level, you get built-in cleats. You can play a good game without them, but there will be situations and circumstances when you will crave for them. So, who needs cleats for and what do they do?
Cleats will give you some stability on certain surfaces. They are soft, but they can give you great traction. Imagine running shoes with flat soles on wet grass. How long would it take for your first slip and fall? Exactly! This is when cleats kick in, as they act as a braking mechanism, so they provide stability.
It is worth noting that cleats are not accepted on all playing surfaces. For instance, you may not be allowed to use them on artificial turf, as you might damage it. Even when it comes to natural grass, it is still worth double-checking upfront. If you only play on a random field in the park, you should have no problems.
While cleats like the Under Armour UA Finisher Molded are good in some circumstances, you should not use them on indoor surfaces. They are likely to get your ankles injured and you do not need the extra traction. As for outdoors, you have lots of options, from regular shoes to more protective alternatives like the Under Armour Women's Lax Highlight MC Lacrosse Shoe.
Unlike your expectations, goggles are not really recommended to goalies because they already have helmets with face masks. On the other hand, field players do not have too much protection against flying balls and sticks, so goggles might be the key. They come in all kinds of sizes, colours and designs.
Look for a model that provides lots of vision and as little interference as possible, such as STX Lacrosse Women's 4Sight Plus Adult Lacrosse Goggles. You want to impact resistance and protection, but you also need to be able to see where the ball and your teammates are.
Other than that, it is highly indicated to opt for a comfortable setting. This face mask (well, goggles) is based on wires. It is metallic. Having it rub against your forehead or cheeks for an hour can cause all kinds of irritations, not to mention how unusual it feels. Luckily, goggles like the STX 2See Adult Field Hockey Goggle will help out.
Top goggles come with silicone or other materials around the frame. In other words, the metallic wire will not touch your face, but just the soft comfortable silicone. Keep in mind that such goggles are handy for more sports, so you might find lacrosse goggles that are just as good for field hockey.
Books
In a world where more and more people get their information and literature over the Internet, books might have lost some of their popularity, but they are less likely to die. In fact, some of the best guides in the world are written way before the era of the Internet began. Field hockey makes no exception – you will be surprised by what kind of work you will find in some classic hardcover books.
With these ideas in mind, if you are new to field hockey, a little research can help you understand the game better and make more informed decisions. You will learn more about the history of this sport, rules, how they changed over time, what caused all these changes and how field hockey equipment has evolved over the last years. Some of these books have also been altered and updated with new information.
Field Hockey: Understanding the Game by Christopher Maloney is one of the top field hockey books out there. This book aims to explain everything to you. It is said that you can watch field hockey for 10 years and still have no clue what is going on. Well, this book aims to explain why this sport is so complicated, yet easy. It makes no difference if you are an umpire, beginner player, coach or reporter.
On the other hand, Field Hockey: The Beginner's Guide: Full-Color Edition written by the same author is an updated version of an older book in his portfolio. You will learn how to pick a stick, how to avoid the most common mistakes, what umpiring signals mean and so on. In fact, you will learn some skills and even the so-called Maloney method, which has helped thousands of newbies overtime.
Nutrition supplements
Just like in any other sports, nutrition supplements will help you perform better. Keep in mind, a health supplement is supposed to be natural and legal, so stay away from illicit drugs or medications to boost your performance, as they are likely to bring in a plethora of adverse reactions too. So, what do you need in field hockey?
Simply put, you want energy and endurance. The game can be quite exhausting, especially if the weather is too hot or your physical condition is not the best. Hydration is one of the key elements, but supplements will also boost your performance.
Pure Chocolate Energy Chews by Purity & Grace is currently one of the top-rated supplements in this field. Its main roles? Energy and endurance. It is vegan, gluten, soy and dairy-free, so it is healthy and recommended to everyone over 18. It boosts your body with green tea, caffeine and vitamin B12 for lots of energy and greater endurance.
The Bucked Up Pre Workout supplement is just as handy. Just like most other supplements out there, it is not specifically developed for field hockey. Instead, any athlete can use it for the right purpose. It can be handy in bodybuilding, football, swimming and so on. It will increase your energy and strength, not to mention the focus. When used in bodybuilding, it will help the pump too. It is a natural supplement, so it will not have any side effects.
Water bottles
What makes field hockey water bottles so important that you need to get a specialized model? In fact, most sports water bottles will work in every sport, whether you go to the gym, play football or field hockey. But why would you buy one of these bottles instead of classic bottles water? There are more reasons.
First of all, you got quality. You get a reusable bottle that you will most likely use for years. It is sturdy, strong and has a good seal, so it also aims to maintain the temperature decently. Second, you use a reusable bottle. Think about the plastic problem that suffocates the world these days. Plastic is everywhere and likely to kill nature. If everyone contributes by reducing their plastic use, things will actually improve. Third, these bottles look cool and you will make a good impression.
Look at the Gatorade Squeeze Water Sports Bottle 32oz Pack of 2, for example. It comes in a pack of two bottles, so you can take one for yourself and another one for your partner or best friend. Each bottle is 32 ounces in capacity – plenty of liquid. It has a good grip and an even better seal – easy to open even if your hands are wet and sweaty. Worried that it might flip over? Nothing to be concerned about – it will not leak.
The BSN Bottle Carrier with 8 Qt Bottles cannot be overlooked either. However, you get eight bottles there. Unless you want to get a gift for your team or your family, chances are you will not need so many. The package also comes with a carrier for easy transportation. Each bottle has a pop-up the spout and a big mouth.
Sport towels
Field hockey sports towels are some of those things that you do not actually need to play the sport, but they would come in handy. Field hockey can get exhausting pretty fast, as it requires a good physical condition. Unless you are a goalkeeper, you will most likely sweat, yet goalies also tend to sweat if they have too much equipment and the other team is overwhelming.
A good towel can keep the sweat and moisture away, provide a more comfortable experience and make the game more enjoyable. Furthermore, it will improve your game. Also, you do not want to feel miserable the whole game while wiping your sweat with the back of your palms, do you?
Unlike regular towels, field hockey sports towels come in more advanced materials to actually absorb moisture, dry quicker and feel more comfortable. For example, the Grounded Sport Ultra Lightweight Compact (12″ x 39″) Cooling Towel 3-Pack brings in three lightweight and compact towels made of bamboo microfiber and nylon. These are the types of towels you can wear around your neck during a break or while in the gym – comfy and quick drying.
If you want something bigger, Unisex Love Field Hockey Team Beach Towels could solve your problems. This kind of towel is larger and can be used in sports, but its uses go further than that – shower and even the beach. It has an impressive water absorption power and will dry in no time. What else can you ask for?
Sport hair bands
Long hair? Annoying strands coming out of your ponytail in front of your eyes? Sick and tired of stopping every five minutes to pull your hair together in a tail? Everyone has been there and while they seem irrelevant first, field hockey hairbands are actually quite helpful during a game.
They are made of more materials and no matter how hard most manufacturers try to prevent it, they may still overheat certain parts of your head. But this minus is insignificant given their benefits. Having a clear vision will add to your game while getting them in so many colours can help you match your equipment.
Non-Slip Headbands for Girls by Bani Bands are basic, available in lots of colours and funky in design. While designed for anything – even a day out, the field hockey design will make them feel more individualized. Also, they are available in a plethora of colours – perhaps get one for each female member of your team.
The Funny Girl Designs Design Your Own Personalized Field Hockey Cotton Stretch Sport Headband is a bit different. It is wider and made of cotton and lycra. The best part? You can customize it yourself – again, a great idea for an entire team.
Final Words!
Bottom line, field hockey equipment and gear can be quite diversified. Some things represent an actual necessity – others are optional. But at the end of the day, if you think about it, you can find a good use for everything. Chances are you will be much more efficient when you know that you are covered and nothing will ruin your game.